Licensed Orthopedic Massage and Bodywork Therapist NC License #16954
I am Jeffrey Rich, practitioner, author, speaker, and educator in the healing arts living and working in Asheville, NC. My 3,200+ hours of study and almost two decades' experience in the healing arts benefits you directly. I have taught at two massage schools, and have held dozens of my own workshops in the healing arts.
I practice massage in a quiet and professional setting. For fifteen years I practiced in major medical settings, providing wellness massage for the public, for hospice patients, and for patients receiving and after cancer treatment.
My practice is an integral part of my life and an expression of my passion and vitality.
For over 20 years I've searched for the answers to "why?" Why do we experience the things we do?
I study the ways that energies affect the tissues of the human body. I want to know why trauma gets locked in our soft tissues. I want to understand more how the places we live affect us. I want to know how to soften these influences for us all.
Credentials and Training : Full List ...
Orthopedic Massage and Bodywork Therapist
Licensed in North Carolina — NC License #16954

Alabama AL License #656

Licensed Massage Therapy Instructor in Alabama #I-065

1,500+ hours of study

19+ years' full-time, hands-on massage therapy experience in hospitals, major medical settings, oncology settings, hospice, and private practice

Completed all clinical requirements to become a registered acupressurist
Systemic and Family Constellations Facilitator
Shamanic Healing Practitioner
As I continue to learn and grow, I discover that some of our physical and spiritual symptoms come from outside us. They come from the energetic Fields we live and move in, particularly those of the family system and the Ancestors. I bring this knowing to my healing practice.
What Clients Are Saying
Wonderful Healing Touch
"Have been in the massage/bodywork field for over 30 years and am thrilled to have found Jeffrey. He is very intuitive and knowledgeable and delivers a wonderful session. Look forward to many many more wonderful sessions with him!"
-- R.C., Advanced Rolfer

Finally ... a healer with excellent touch, heart, integrity and intention!!
"I have been fortunate to know Jeffrey for a number of years through connections and involvement in various groups, and have only recently benefitted from receiving an amazing massage therapy treatment from him! Being a Massage and Physical Therapist myself for the past 37 years, I am somewhat particular about the work I seek out and receive. Jeffrey excels equally in his skill level as in his intuitive abilities. Sensing with his hands and heart he delivers exactly the healing required!"
-- John L., DPt
Energy Healing Clients Say:
"I believe that I was led to Jeffrey. I was very impressed by the information that he was able to discern from his journeying. He saw that an Ancestral curse was at work and that it didn't belong to my family. Long story short, I began to see results. People started responding positively to me. My whole world has started to change for the better. I highly recommend working with Jeffrey if you are serious about positive transformation in your life." --S.C., Ohio
Constellation Workshop Participants Say:
"Would do it again and recommend it." Nov 2015
"Phenomenal! A very new and different healing modality." - November 2015
"Transformational." - November 2015

Client Reviews and Testimonials
Experienced Pioneer And Explorer
Being business partners with Judy Castrichini, LMT, at Orthopedic Massage Associates in Huntsville, AL was an honor. Judy and I were the first massage therapists in Huntsville to offer massage therapy in major medical settings. We worked in hospitals, medical offices, and local Hospice programs. We were among the first massage therapists to give massage to Oncology patients at Huntsville Hospital. For a decade and a half we brought massage therapy educators to Huntsville to benefit our community.
Judy and I worked with Hospice Family Care for many years. We provided massage therapy to many people leaving this life for their next adventure.
Healing and compassion are my business.
Finding new techniques and discovering what works for an individual excites me. I've been an explorer and pioneer all of my life, always looking for answers. I enjoy combining techniques together in new ways and I am always exploring.
Seeker
I am a man, on my Path, and willing to support you as you make your own journey. I claim nothing other than being human.
Questions as to why we experience pain, and the quest to find resolutions to the obstacles of our healing is my motivation. Sometimes the answers lie in the physical, and sometimes they lie in the energetic. I use tools from all of the healing traditions to find these answers for you.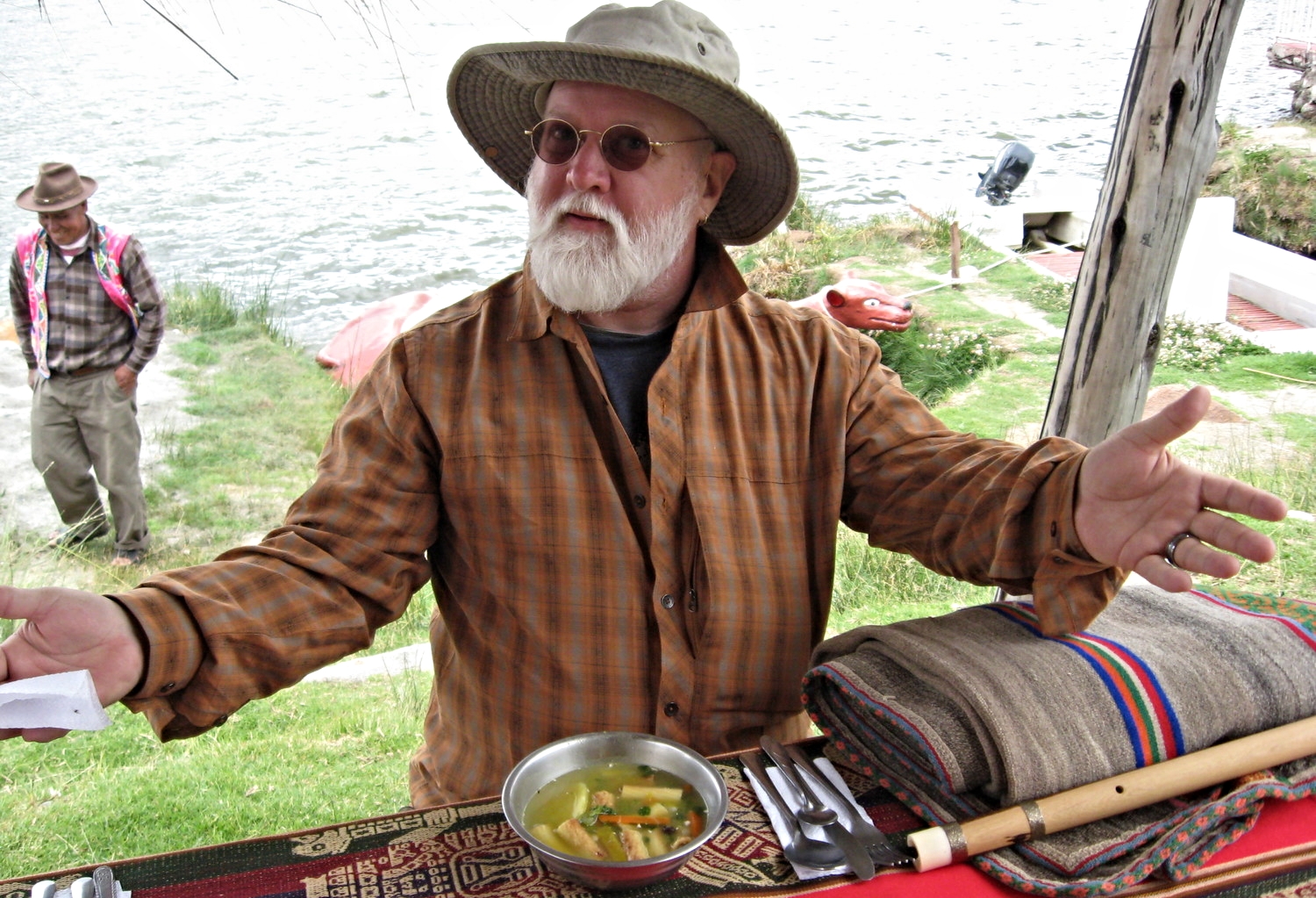 Photos of me on my trip to Peru in 2013 studying in the Sacred Valley of the Andes. What at trip of a lifetime! I hope to get back there soon :-)